YouTube Ads
Can you recall the last YouTube ad that popped up while streaming your favorite Youtuber's new video and ever wondered for what reasons are those promotions related to your interest? Have you ever encountered a Nike or an Adidas ad going through sports highlights and thought about how it got there?
YouTube, as a part of the unmatched Google empire, uses your history of internet preferences and interest to set up an ad that might be appealing to you. YouTube has the second most astounding traffic with 1.9 billion active users each month, a number that only comes second to Facebook. With amazing traffic, companies find this platform very inviting to gain a healthy reach. YouTube is also the second most noteworthy internet search engine after Google, and more than one billion hours of YouTube content are viewed daily.
Nepal itself has more than 54 million registered clients and attracts 22 million daily site visits. With such a huge group of audience spending a great amount of time on a digital hub, it's no big surprise that YouTube is turning into a favored spot to market a company. With versatile ad types, YouTube is a go-to for modern marketers.
Do you know that there are more types of YouTube advertisements than only skippable ads? In this blog, we'll look upon all the ads that YouTube has up for grabs.
Types of YouTube ads
Display Ads
Display ads are banner ads that usually appear to the right of the video player, just above the suggested listed of videos. Display ads adjust themselves just below the player when the player is switched to theatre mode. Display ads are only displayed on the desktop mode of YouTube, not mobile phone or tablet app of the platform. So, if a company is targeting an audience mass that comprises of phone/tablet users, display ads might not be appropriate means.
Sponsored cards
Sponsored cards are the small call to action pop-up advertisements that may be relevant to your video, such as products featured in the in-stream video. The viewer from desktop or mobile sees a teaser for the card for a couple of moments. The user can likewise tap the symbol in the upper right corner of the video to peruse the cards. When clicked, the circle will grow to uncover the promotion to redirect the viewer to the ad page.
Relatively new to the scene, sponsored cards are mobile-friendly.
Skippable video ads (TrueView ads)
Skippable video promotions enable the viewer to skip ads after 5 seconds. The advertisers must create ad content that catches one's attention in 5 seconds so that the viewer will pursue the ad and ultimately, the product. Advertisers are charged only when the viewer watches 30 seconds or more, which makes it an effective, economical, and most popular form of YouTube ad.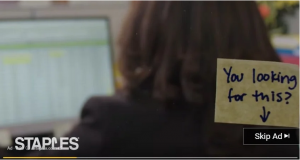 Non-skippable video ads 
Non-skippable ads are lengthier modes of promotions used to convey a more thoughtful, more nuanced stories. These ads must be viewed before you can proceed with your video. These promotions can show up before, between, or after the main video and have a length of 15 or 20 seconds, depending upon regional standards.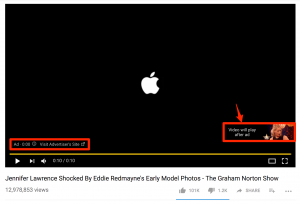 Bumper ads
Bumper ads are generally non-skippable video ads of as long as 6 seconds that must be viewed by the viewer before the video is accessed. In this kind of video ad, advertisers should be able to attract the viewer within a short timeframe with the ad content. Generally, the non-skippable YouTube ads are 5-6 seconds long.
Overlay Ads
YouTube overlay ads are semi-transparent banner ads that are routinely observed running along the base of a video and cover 20% portion of the video player. This kind of promotion only shows up when the viewer is streaming from the desktop platform. Advertisers that need to gain a healthy reach do not prefer overlay ad promotion, as the portable device using the audience is devoid of this type of ad.
As an advertiser, you can pick the right format of YouTube ads that matches your objective, budget, and your product type. You have to make separate campaigns for each of your promotions instead of putting each advertisement in a single basket. Choose a promotion plan and select the type of ad that will be the most suitable for your company. If you want to play smart and make the most out of what you expect, choose a digital marketing partner that's as smart as Kritya Hub and skyrocket your business to new heights.